EPISODE 2
THE MANY FACES OF HORROR FILMS
Welcome to the second episode of Make It Short - a show where we bring together critics, experts, and filmmakers to discuss independent short films and give constructive feedback to new directors and writers! This time around we selected a list of unique and very diverse short films from different regions that all aimed to freak us out.
The horror genre, besides being one of the most popular film genres there is, has always been known as a gateway into the cinema industry. Plenty of successful and well-established filmmakers have begun their careers delving into scary stories before they started directing and writing more traditional dramas, for example. That is one of the reasons why horror is such a popular option for emerging filmmakers, together with the fact there will always be an audience for these creepy tales. And joining me were CenterFrame co-founder and filmmaker Bernhard Pucher and screenwriter Luke Foster.
We started by discussing the fabulous and terrifying Fever Dream, a very interesting short film submitted to us by American filmmaker Gabriel Vianna, its director. The movie really freaked us out, which says a lot, since the three of us are horror fans and have watched countless scary stories on the big screen. The film successfully creates an ethereal atmosphere that truly feels like a dreamlike state, which makes sense, considering we follow its main character as she doubts her sanity. As she starts questioning whether she is awake or asleep, we, as the audience, question it with her. We were lucky enough to have Vianna with us to comment on his creative process, which took place during lockdown and we also learnt more about the film's limited budget. All of that made us love Fever Dream even more!
Next, we examined Bad Company, which is one of the many horror short films directed by Carlos Omar de Leon. I came across the movie while looking for interesting shorts for our show and was really impressed by it. We all agreed the atmosphere was very creepy and well constructed, with an interesting story and a spine-chilling conclusion. The standout was the makeup used for the vampire-like monsters, which evoked an 80s and early 90s horror vibe. We also felt the short was probably a proof of concept for something bigger and this was confirmed when we interviewed Carlos. He was kind enough to share with us his inspirations and the work that went behind the scenes of Bad Company.
The third short analyzed by us was Someone There, a simple but well put together horror short that caught my attention as soon as its director, Maalik Evans (who also stars in the film), sent it to us. We all agreed that the camera work is effective as it makes us identify with the film's protagonist and creates a tense and claustrophobic atmosphere. I could have used more shots of the house, just to get a clearer idea of the environment where the story takes place, but this did not harm the home invasion narrative. Maalik talked to us about the entire process and how he managed to build suspense in the story and why it ends the way it does.
And finally we had Let Them Eat, a bizarre horror film directed by LaShaunte Wade that brings some revenge family drama to the table - literally. With interesting shots and creative sound choices, the story of the film is twisted and bold. We all agreed that the acting is strong and helps us have fun with this gory narrative. I would have liked to have had more context about the protagonist's condition and the pacing could have been more even. The intriguing supernatural elements are certainly appealing, though, and we could see the story has a lot of potential. LaShaunte could not discuss the short with us, unfortunately, but she was kind enough to send us a shout-out!
Once again, make sure to hit play and take a deeper look at our conversation to find out all the details about these incredible films and their creators. I am sure you will find valuable lessons and fascinating insights on filmmaking and on the creative process that goes behind producing a short film. We certainly had a lot of fun discussing these creepy horror films, which are full of scary moments and have tons of potential. And remember, if you are a filmmaker and have directed any kind of short film, be sure to send it to us and have a chance to feature your work in one of the next episodes of Make It Short. Also, please share this message with other writers and directors you may know!

I hope to see you soon for our third episode of Make It Short!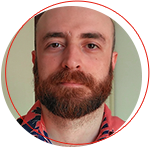 Diogo Brüggemann
Film & TV Critic
How about sending us your Short film?
You can submit shorts from anywhere. Please make sure English subtitles are available if that's not the original language of your production.
We'll try to feature as many shorts as possible in the upcoming episodes of the show, but please be aware that it might not be possible to do so if we receive an overwhelming number of films.