EPISODE 5
ANIMATION SHORTS
Hello and welcome to our latest episode of Make It Short! Today we are bringing to the table some very original and visually-distinct animated short films to be discussed. Animation is typically associated with children's movies and stories. But many adult animated films have made us cry or caused us to reflect upon serious topics, like Satoshi Kon's iconic Perfect Blue or Marjane Satrapi's Oscar nominated Persepolis, just to mention a few.
Animation is a type of film that can be very comprehensive and include absolutely any kind of story, like the ones we are going to see today! And joining me to comment on them, we have CenterFrame co-founder and filmmaker Bernhard Pucher and our special guest, writer, director, songwriter, and animator David Freedman!
One of the most popular film genres that is not strictly a genre, animation is increasingly a form of filmmaking that allows us to experience a diverse range of stories and universes. I say that animation is not a real genre because the unifying idea behind animated films concerns the use of inanimate characters brought to life to tell stories. We can have both 2D and 3D animation or even stop-motion techniques, but that is the point: we are talking about a technique used by filmmakers to tell a story. So animated films can belong to any kind of genre, actually. There are sci-fi comedies like The Mitchells vs. the Machines; dramas like Mary and Max; fantasy adventures like Spirited Away; and super-hero movies like Spider-man: Into the Spiderverse; among plenty of others.
But without any further ado, let's talk about the first short of the day!
A colorful short film directed by Markus Helmersson, Shuffled tells the story of a girl trapped inside a puzzle she has to solve in order to get out. A pretty simple concept and an engaging premise make this short very appealing. Another strong feature is the use of sound and music. This is as exciting as the story itself, which some of us (who are not afraid of horror movies) thought resembled the plot of the 1997 film Cube. We also loved how the film uses light to give the story some rhythm and while some questions could be raised about the design of the animation itself, the final result is pretty good and entertaining.The clever and unexpected conclusion is also a highlight.
Next up, we have Wireless Nonsense, a 4 minute long 2D animated short heavily inspired by cyberpunk Japanese animation. With gorgeous visuals and exciting editing, the film really catches the eye. The use of colors, the character designs, and the movements are astonishing and they highlight the potential of the director, Victor Espada. At the same time, we missed a more explicit storyline, which felt a bit vague on the surface - but it turns out, there are numerous details we didn't spot that Victor kindly shared with us. In the film, we did feel there is a message and a story to be told in which the several characters are somehow connected. Even if we did not get the entire story here, we still loved the film, especially the visuals and Blade Runner inspired worldbuilding.
But everything I discussed above is nothing compared to the fun we had while talking to the filmmakers themselves! Make sure to hit play and watch our video where we examine the lengthy process of creating an animated short film. The short films we discussed are really strong and one-of-a-kind pieces of work that exemplify the commitment of independent filmmakers when it comes to getting the job done. I am sure you will find valuable tips and insightful comments on how to make your own movie based on the experience of people who managed to deliver amazing short films! And as always, do not think twice before sending us your film and have a chance to feature your work in one of the next episodes of Make It Short. Also, please share this message with other writers and directors you may know - sharing is caring, after all! See you next time!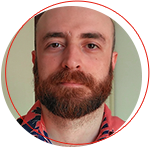 Diogo Brüggemann
Film & TV Critic
How about sending us your Short film?
You can submit shorts from anywhere. Please make sure English subtitles are available if that's not the original language of your production.
We'll try to feature as many shorts as possible in the upcoming episodes of the show, but please be aware that it might not be possible to do so if we receive an overwhelming number of films.