EPISODE 6
ANIMATION - Part II
MONSTERS, TOYS, AND ROBOTS
Don't you love animated movies? If you do, welcome and join us, because we can't get enough of them! So we decided to do a second episode of Make It Short focusing on animated films!Let's celebrate our love for this magical art form by commenting on some great and unique short films we found online, as well as some amazing stories submitted to us by talented filmmakers from all over the world! Today we will see monsters, toys, and robots sharing the stage in a way only animation can make possible. Just like the last time, I am joined by CenterFrame co-founder and filmmaker Bernhard Pucher and our special guest, writer, director, songwriter, and animator David Freedman!
I have already mentioned here that animation is not a film genre per se and that the most different types of stories imaginable are told through this format. Despite this, animated films are still seen as primarily being for children and are taken less seriously than they should. In fact, during this year's Best Animated Feature presentation at the Oscars, the presenters made some comments about animated films that implied and perpetuated the false idea that animated works are strictly for children. They were heavily and deservedly criticized by those working in the animation industry, who pointed out that animation is a powerful form of art that is able to tell all kinds of stories. And in dark times, like during the worst days of the Covid-19 pandemic, animators were the ones still able to work and to deliver some incredible pieces of filmmaking. And to confirm that, today we are discussing animated short films aimed at all ages.
To start, we have an amazing 3D animated short film called Legend Has It, directed by Lainey Davidson. The film is only about two minutes long, but it includes basically everything a good horror comedy animation should have. It tells the story of a camp counselor who tries to spook her young campers with a scary tale about a creepy sea creature. Apart from the dazzling technical work, the story is also very funny and the use of animation for the creature is truly refreshing. The voice actors also deliver great performances here and help make Legend Has It feel like a big studio short film. We loved how the film came about and we also learned a lot from Lainey's experience of creating it. I can guarantee that after seeing this film, camping will never be the same again!
A clever metalinguistic short about toys being forgotten by their owners, Toy Unemployed may seem very familiar, but it's aware of this. Written and directed by Jake Savard, the film is quite interesting in the way it deals with existential crises and has a funny text that may be its strongest suit. The 2D animation feels really unique, even if it looks more simple than your average animated film.The aesthetic of the film certainly caught our eye, as well. We were lucky enough to have Jake Savard with us to talk about the reasons behind the film's design and the metacriticism of the work as a whole. I particularly enjoyed the characterization and would love to see the characters in further stories.
Directed by Tomislav Stašina, Villain is a very short animated film. In its 36 seconds we follow the story of an ambitious robot that wants to take over the world. Although the short duration of the film can be a disadvantage in some aspects, the entertaining story makes it worth every one of those 36 seconds. The animation itself is simple, but it does not need to be the most revolutionary work out there - it serves the purpose of this funny story. It also delivers an amusing Pinky & The Brain kind of atmosphere, together with a delightful conclusion. We had a great chat with Tomislav where we talked about the process of creating Villain and the many insights we could take from this brief tale, as well as his TikTok plans.
Now it's your turn! Press play and watch our entire conversation with brilliant filmmakers from the United States, Canada, and Croatia - who also work in other areas. I am sure you will find valuable lessons and interesting insights on filmmaking and on the creative process that goes behind producing an animated short film. We certainly had a lot of fun discussing these unique stories that only the art of animation could have brought to life. And once again, remember: if you are a filmmaker and have directed or written any kind of short film, be sure to send it to us and have a chance to feature your work in one of the next episodes of Make It Short. Also, please share this message with other writers and directors you may know! And I will see you back here for our next episode!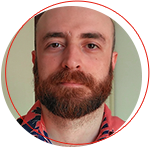 Diogo Brüggemann
Film & TV Critic
How about sending us your Short film?
You can submit shorts from anywhere. Please make sure English subtitles are available if that's not the original language of your production.
We'll try to feature as many shorts as possible in the upcoming episodes of the show, but please be aware that it might not be possible to do so if we receive an overwhelming number of films.